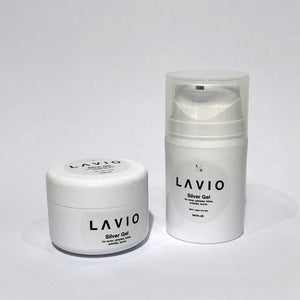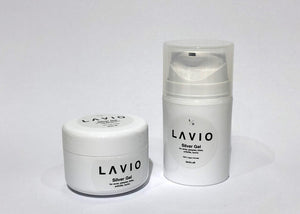 Lavio Silver Gel
GEL FOR SKIN IRRITATIONS INCLUDING ACNE AND PIMPLES
After years of research and working with health practitioners, we developed Lavio Silver Gel.  Our cream contains actual silver, as it is renowned for its antiseptic properties.  It is an easily absorbed gel that gives the following benefits:
All skin irritations including, acne and pimples, eczema, athlete's foot, warts, sun spots, etc.
Excellent for all bites and skin abrasions.
Arthritis - rub into hands twice daily. Also knees and joints.
Helps speed up healing of burns, wounds, cuts & grazes.
HOW TO USE:
Our natural antiseptic gel is the skin repair solution for all problem areas, and works surprisingly fast
Apply as often as required
We recommend it is used with Lavio Day Cream
INGREDIENTS:
Aqua, Helianthus Annuus Seed Oil (Sunflower Oil), Cetyl Alcohol*, Glycerine, PEG-100 Stearate*, Glyceryl Stearate*, Cocos Nucifera Oil (Coconut Oil), Cetearyl Alcohol*, Prunus Amygdalus var. Dulcis Oil (Sweet Almond Oil), Simmondsia Chinensis Seed Oil (Jojoba Oil), Theobroma Cacao Seed Butter (Cocoa Butter), Euxyl K700*, Chrondrus Crispus Extract (Seaweed), Tocopheryl (Vitamin E), Arnica Montana (Arnica), Calendula Officinalis (Calendula), Aloe Barbadensis (Aloe Vera), Butyrospermum Parkii (Shea Butter), Chamomilla Recutita Oil (Chamomile Essential Oil),  + Colloidal Silver (45%), Copper (45%) & Zinc (10%) 
*derived from plant and vegetation
100% Vegan friendly.
Cruelty Free - we do NOT test on animals.