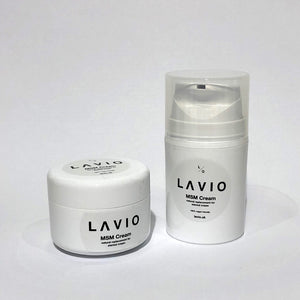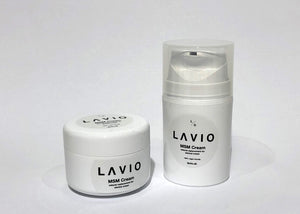 Lavio MSM Cream
NATURAL REPLACEMENT FOR STEROID CREAM
WHAT IS MSM AND WHY SHOULD YOU USE IT?
MSM (methylsulfonylmethane) is an organic sulfur compound that's naturally derived during the earth's rain cycle.  Biologically active sulfur is one of the most critical nutrients for our bodies to remain youthful and energetic and MSM is gaining a lot of attention due to the recent focus on longevity and anti-aging technologies.
Steroid creams prevents blood flow to the tissues by contracting blood vessels and arteries, causing thinning of the skin. It should also be noted that they are addictive, only treat the symptoms and should take a few months to gradually wean your system off.
We recommend utilizing existing prescription steroids sparingly ONLY if already using, and gradually reduce the body's addiction to steroid cream by introducing our MSM and Moisturising Cream simultaneously.
HOW TO USE:
Use sparingly on problem areas
May cause a temporary tightening sensation & slight reddening
We advise applying to test area before use, and in case of adverse reaction, rinse off immediately with warm water
INGREDIENTS:
Aqua, Helianthus Annuus Seed Oil (Sunflower Oil), Cetyl Alcohol*, Glycerine, PEG-100 Stearate*, Glyceryl Stearate*, Cocos Nucifera Oil (Coconut Oil), Cetearyl Alcohol*, Prunus Amygdalus var. Dulcis Oil (Sweet Almond Oil), Simmondsia Chinensis Seed Oil (Jojoba Oil), Theobroma Cacao Seed Butter (Cocoa Butter), Euxyl K700*, Chrondrus Crispus Extract (Seaweed), Tocopheryl (Vitamin E), Arnica Montana (Arnica), Calendula Officinalis (Calendula), Aloe Barbadensis (Aloe Vera), Butyrospermum Parkii (Shea Butter), Chamomilla Recutita Oil (Chamomile Essential Oil), Dimethyl Sulfone (MSM/Sulphur), Calcium, Acetic Acid (Apple Cider Vinegar) + Colloidal Gold, Silver, Zinc, Platinum, Copper & Titanium
*derived from plant and vegetation
100% Vegan friendly.
Cruelty Free - we do NOT test on animals.